If your home is not connected to a public sewer it is likely has a septic system located on the property. Septic systems are designed to treat and dispose of wastewater. Septic systems vary in size and type depending on the number of bedrooms in the home and the soil type.  Regardless of the type and size, septic systems represent a significant financial investment and if cared for properly, a well maintained system will provide years of reliable service.
Know the Location of Your Septic System.  As a homeowner, it's important to know where on your property septic system is located.  If you do not know where it is, here are some suggestions for locating it.
Consult Your Local Environmental Health Department. The County Health Department should have a copy of your property's septic system installation records on file. This file should have a diagram or map of the property with the septic tank and drainfield location.
Ask the Prior Owner of the Property. If you are purchasing the home or made a recent purchase.  Contact the current/previous owner and ask if they have any records showing the location of the septic tank and drainfield.  Prior to finalizing the purchase of a home, ask the current owner to provide any and all septic system records, this could include a system design prepared by a licensed designer, an as-built record, or operation and maintenance (O&M) records.
Contact Local Septic Professional.  Local Septic tank pumping companies, septic system installers, septic system designers, or Ssptic O&M professionals may have information about your system.  The local county Environmental Health Department typically maintains a list of septic system service providers and professionals.  If they don't have records of your system, you can hire one of these professionals/service providers to locate your system.
System Operation and Maintenance. In some instances, monitoring can be accomplished by a knowledgeable homeowner, however, it should be performed by a licensed professional.  Your local Environmental Health Department maintains a list of professional O&M specialist; if not consult your design professional for recommendations.
In all cases the frequency and level of monitoring recommended within this document should be superseded by any manufacturer requirements and recommendations or by recommendations made by the local Environmental Health Department. 
Septic Tank. Your septic tank should be examined annually for the first three (3) to five (5) years to determine the amount of sludge and scum accumulation.  Once this rate is known, monitoring frequency can be adjusted per recommendation of the licensed O&M specialist. Inspections should be conducted by a licensed maintenance professional and will include; levels of sludge and scum accumulation, integrity of the tank, liquid level, performance of the effluent filter, and integrity of risers and lids.  When sludge and scum accumulations have collected to the point where organic matter can be expected to enter the collection lines or plug the effluent filter, the tank should be pumped by a pumper licensed by the local Environmental Health Department.
Pump Tank. If your septic system includes a pump it should be thoroughly inspected for proper operation after six months of initial use and then annually, or when problems occur including the activation of warning lights or alarms.  An operational check should include, but not limited to: examining all accesses for soundness and signs of wear; checking for accumulation of sludge within the tank; recording all meter information; running the time through its sequence to determine functionality, off and on times; and checking the function of the all floats.
Panel. If an alarm sounds, the system should be checked by a licensed operation and maintenance professional.  Panels typically have a red alarm on the front and a toggle switch on the side of the box.  Under normal conditions, there is no audible alarm and the light is off.  If the liquid level in the pump tank indicates a high-water condition, the red light will be lit, and the alarm will sound.  The audible alarm can be silenced by pushing the red-light in.
Drainfield. The drainfield site should be maintained by regular mowing and should be mowed prior to the operation and maintenance inspection.  The drainfield should be inspected after a year of initial use with the frequency adjusted per recommendation of the licensed operation and maintenance professional.  The discharge in each lateral should be checked during the drainfield inspection.  These findings can be compared to the original and last test results for the same lateral.  Changes in height or lack of flow could be a sign of clogging.  The total drainfield area, including top and perimeter, should be examined for signs of surfacing sewage, damage, or change.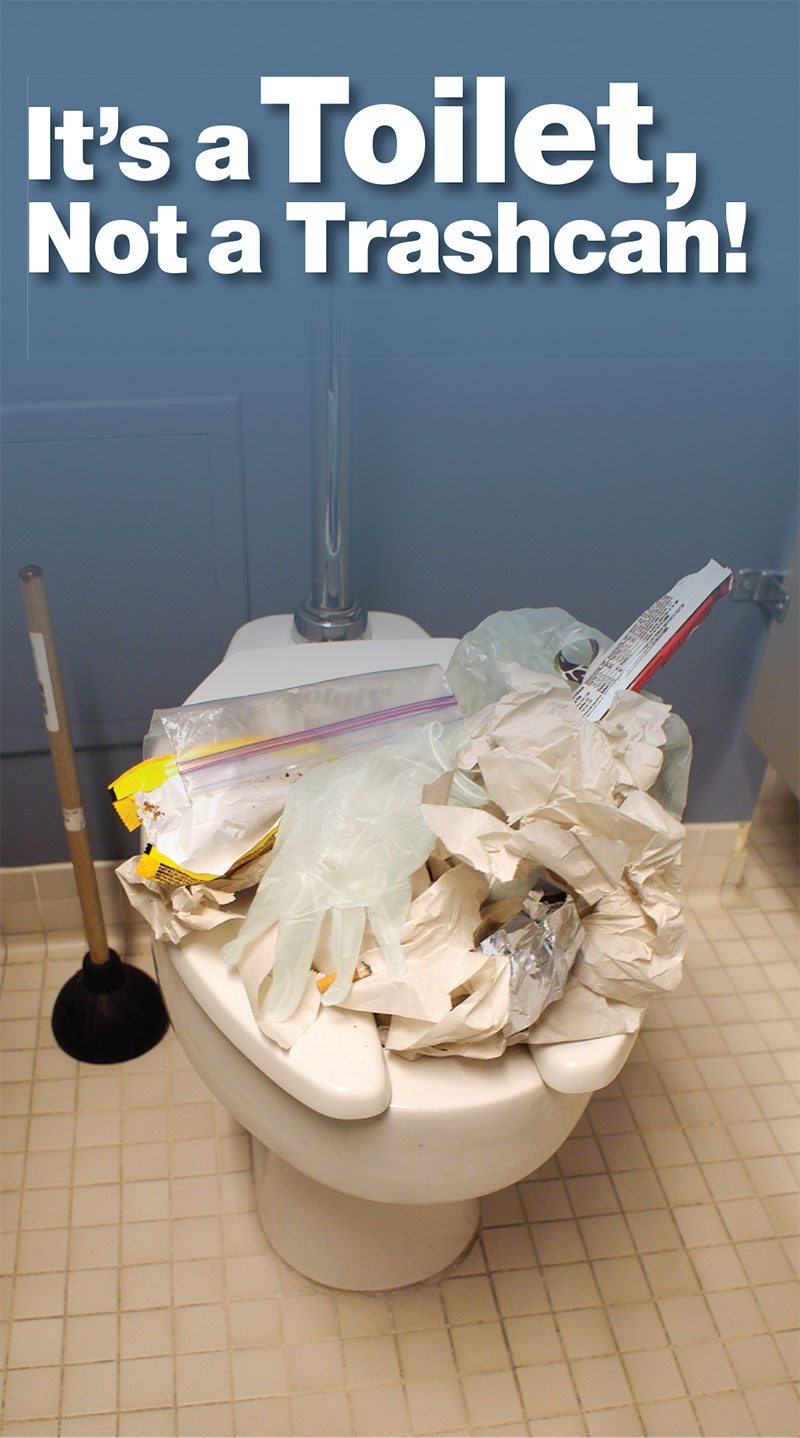 Your Toilet Is NOT A Trash Can.  Besides human waste, toilet paper, and soap used for washing, not much else should be going down your drain.
Never Flush
Baby wipe, cleaning wipes, or any moist towelettes.
Feminine hygiene products such as, tampons or pads.
Condoms.
Paper towels, rags, or newspaper.
Dental floss.
Cotton balls and swabs.
Diapers.
Hair.
Cigarette butts.
Band-aids.
Coffee grounds.
Cat litter.
Grease and cooking oils.
Household chemicals like gasoline, oil, pesticides, antifreeze, and paint.
Prescription medication.